Mark Freid
PRESIDENT | BRANDATEGIST | IRONMAN | FAMILY MAN
Mark starts every morning off with a run and, as a man on a mission, doesn't stop moving until his head hits the pillow at night. He founded Think Creative in 2000 because he suspected that an agency, if it tried hard enough, could do it all: produce extraordinary work for great clients and be a place people love working every day. All he had to do was start it himself. Now, as the fearless leader of Think Creative, he firmly believes that our agency has the power to help people, organizations, and our community be the best it can be. And he'll do whatever needs to be done to get there, especially when it involves inspiring the team to work hard, have fun and think big. No, bigger. Even bigger than that. Okay, that'll do. For now.
Thinker since Day 1
EDUCATION
Bachelor of Arts, Tulane University
Certificate of Leadership Practice, Rollins College
Crummer Management Program Leadership Mastermind Alliance
Corporate Athlete and Resilience Programs, Human Performance Institute
Former Board President, Holocaust Memorial Resource and Education Center of Florida
One of Orlando Sentinel's "Central Florida 100" community leaders
Finisher of 4 Ironman races, 5 marathons, 3 ultra-distance trail runs, 1 run across the state of Florida and 1 run across the Grand Canyon
Father to three kids Jacob, Sophie and Joseph with his wife Stephanie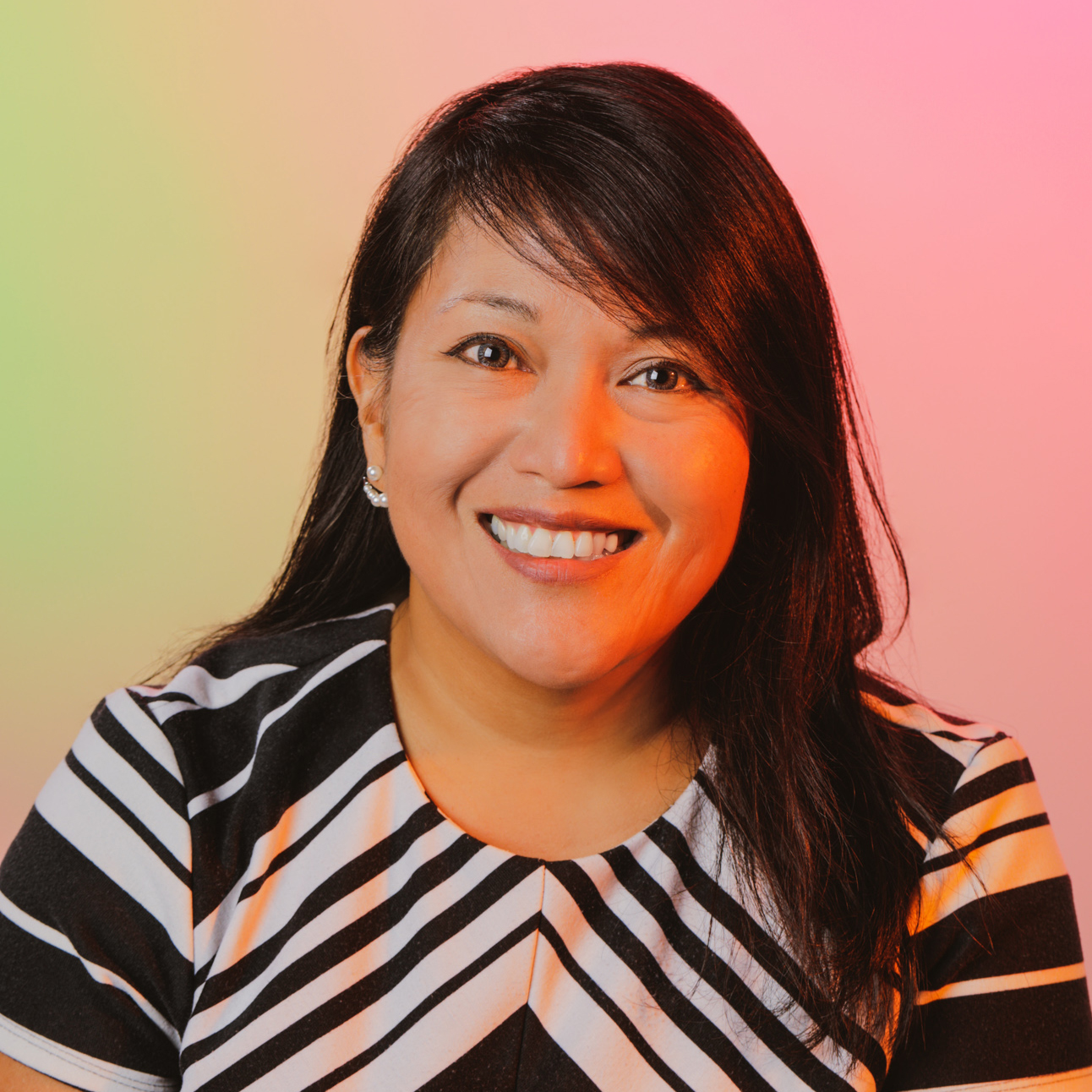 Diane Levine
Writer | Story Strategist | Optimist | Heel Junkie
If Daenerys Targaryen is the Mother of Dragons, Diane Levine is the mother of stories. As the leader of story and message development, she loves the challenge of understanding a brand and bringing their compelling truth to light. To do that, she spends her days listening, researching, brainstorming, collaborating, strategizing, writing and staring out the window (which she swears is part of her creative process). Diane has developed award-winning campaigns for a wide range of clients and industries, from organic grocery stores, liberal arts colleges and community fitness centers to nonprofit organizations, financial service firms and five-star resorts. She firmly believes that every brand has a great story to tell, whether that story is about aromatherapy or smart investment strategy. Let's just say if there was an Iron Throne for storytelling…she'd be sitting on it.
Thinker since 2005
EDUCATION
Bachelor of Arts, SUNY at Stony Brook
Certificate in Marketing Communications, New York University
Board Member, Down Syndrome Association of Central Florida
Hiked across the Grand Canyon on a 40-Hour Sabbatical
Local and District ADDY Award Winner
Intermittent blogger at OperationGoosebumps.com
Mom of two great boys and wife of great guy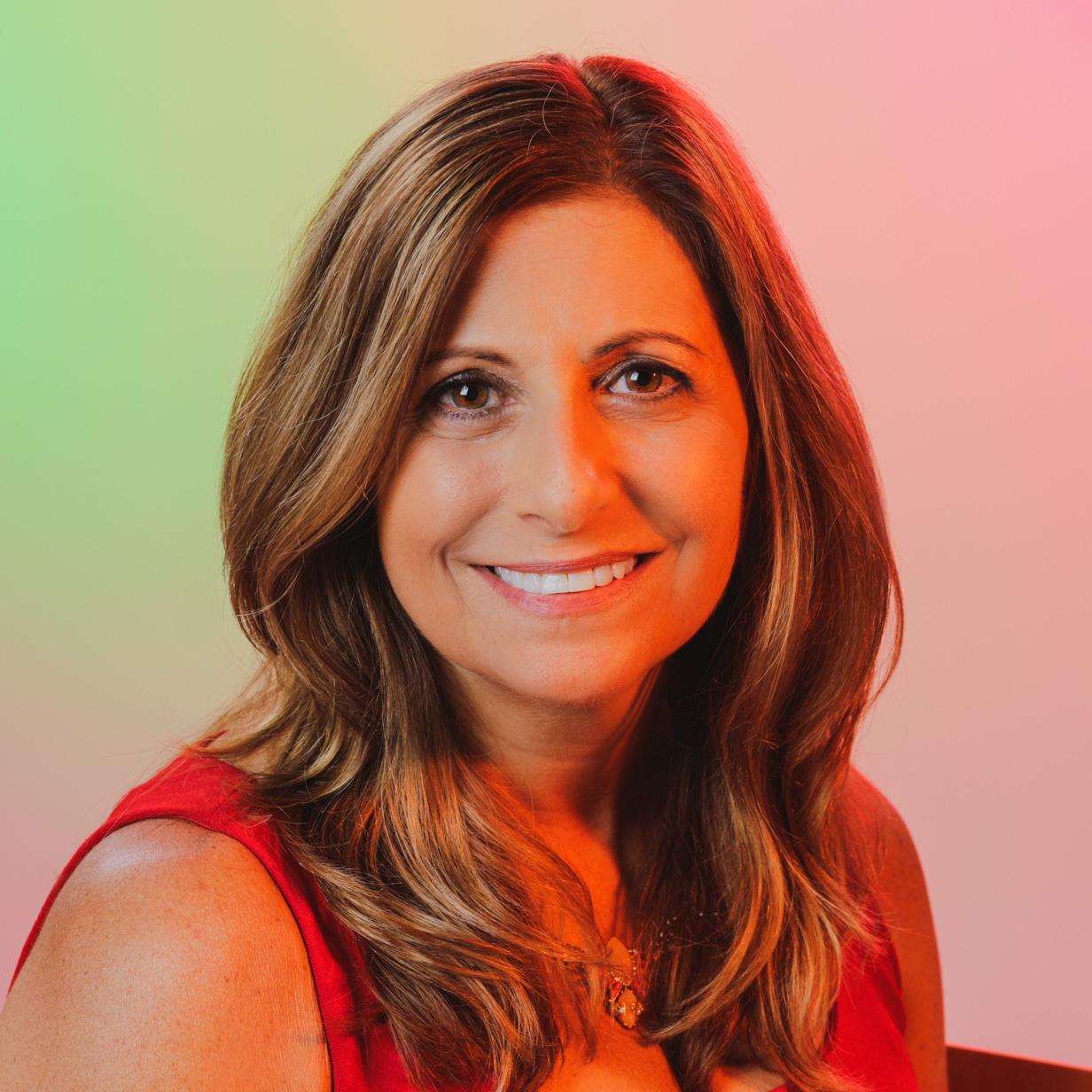 Kim Capps
Account Executive | Client Champion | Ironwoman | Proud Mom
Client champion. Ironman. Devoted Gator. Mother of two. The agency's go-to for just about everything. It's not a question of what Kim can do, it's a question if there's anything Kim can't do. From campaign kick-off through champagne celebration, Kim serves as Think's primary point-of-contact, problem solver and master planner. Client wants to reach millennial foodies shopping for organic groceries in Tulsa, Oklahoma? Kim will figure out how. Designers not sure what "make it pop more" means this time around? Kim will translate. After 11 years at Think Creative and more than 20 years in the industry, Kim has mastered the art of keeping both clients and Thinkers happy. From strategizing last-minute sales campaigns to creating half-marathon training plans, everyone relies on her for just about everything. And the best part? She's more than happy to help.
Thinker since 2008
EDUCATION
Bachelor of Science, Advertising with a Minor in Marketing, University of Florida
Board Member SoDo Main Street District, Promotions Chair
Unified Partner, Special Olympics Florida
Two-time Ironman Finisher
Runner, triathlete, hiker, paddle-boarder, kayaker, cyclist, adventurer
Empty Nester / Proud mom of two amazing young men and wife of one amazing not-so-young man.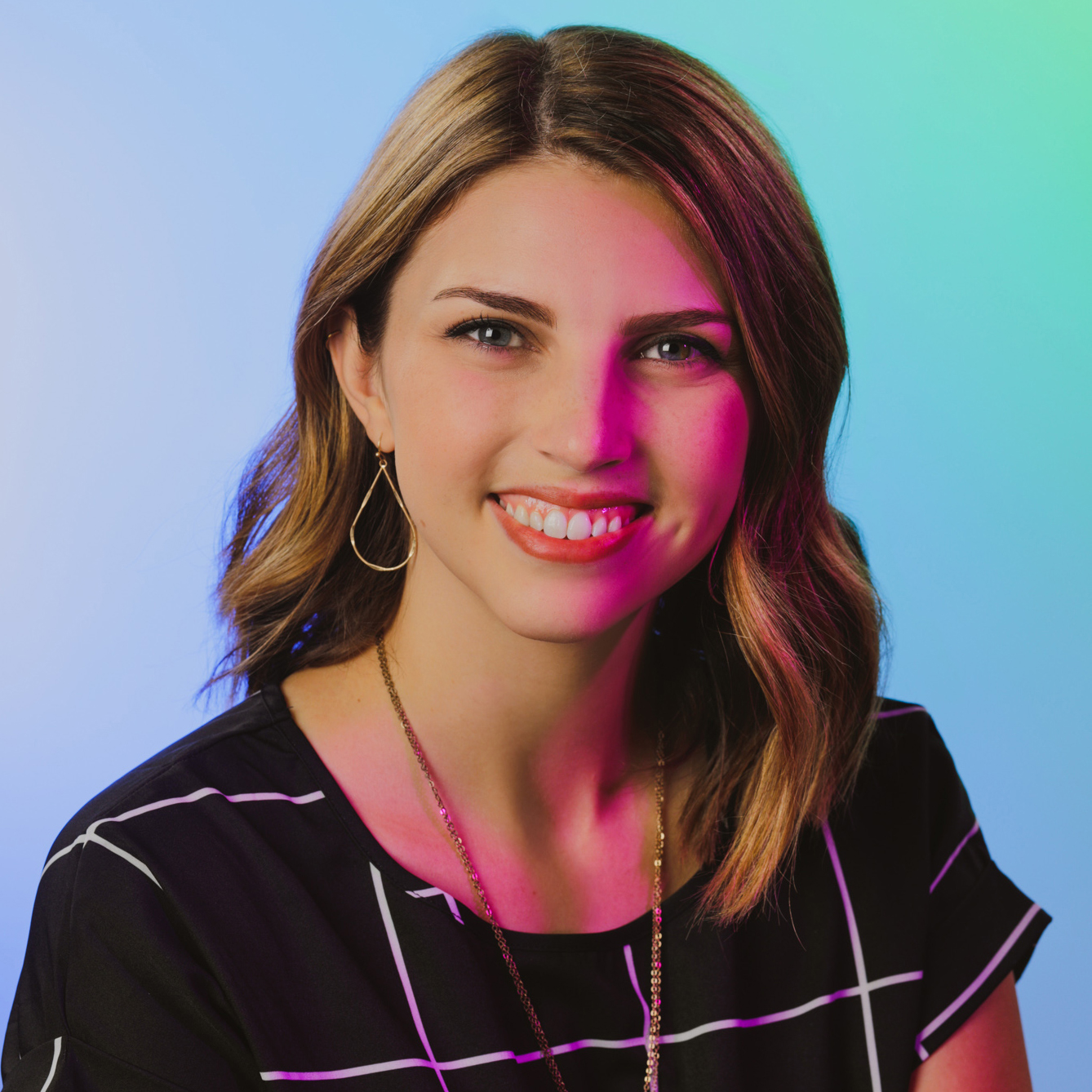 Miranda Anzelone
Senior Designer | Ambivert | Collaborator | Donut Lover
Designer. Photographer. Office plant mom. Recycling fairy. Miranda wears an abundance of hats at Think, and not just on Unexpected Accessory and Adventure Lunch Day. After taking her first design class at the ripe age of 11, Miranda landed her first freelance design contract at just 16 years old. We'd say her skills are full-grown now, but somehow, she just keeps getting better at creating a brand's distinct visual identity and expressing it across any platform, from the essential (website, ads, signage, print materials) to the exceptional (talking taco trucks, artificial turf, rainbow sprinkles). Miranda's an avid creator off the clock as well, and counts knitting, crocheting and hand-lettering among her hobbies, along with yoga and, because no one's productive all the time, mindlessly scrolling on IG and consuming way more than a healthy amount of TV/movies.
Thinker since 2016
EDUCATION
Bachelor of Arts, Communication (Media Production) with minors in Graphic Design and Advertising, Flagler College
Associate of Science, Graphic Design, Valencia College
Member, AIGA
Maker of weird and wonderful interactive displays
Photographer/videographer/media maven extraordinaire
Proud mom of nine office plants and one stay-at-home kitten
Knitter, crocheter & macrame-r
Lettering artist and future muralist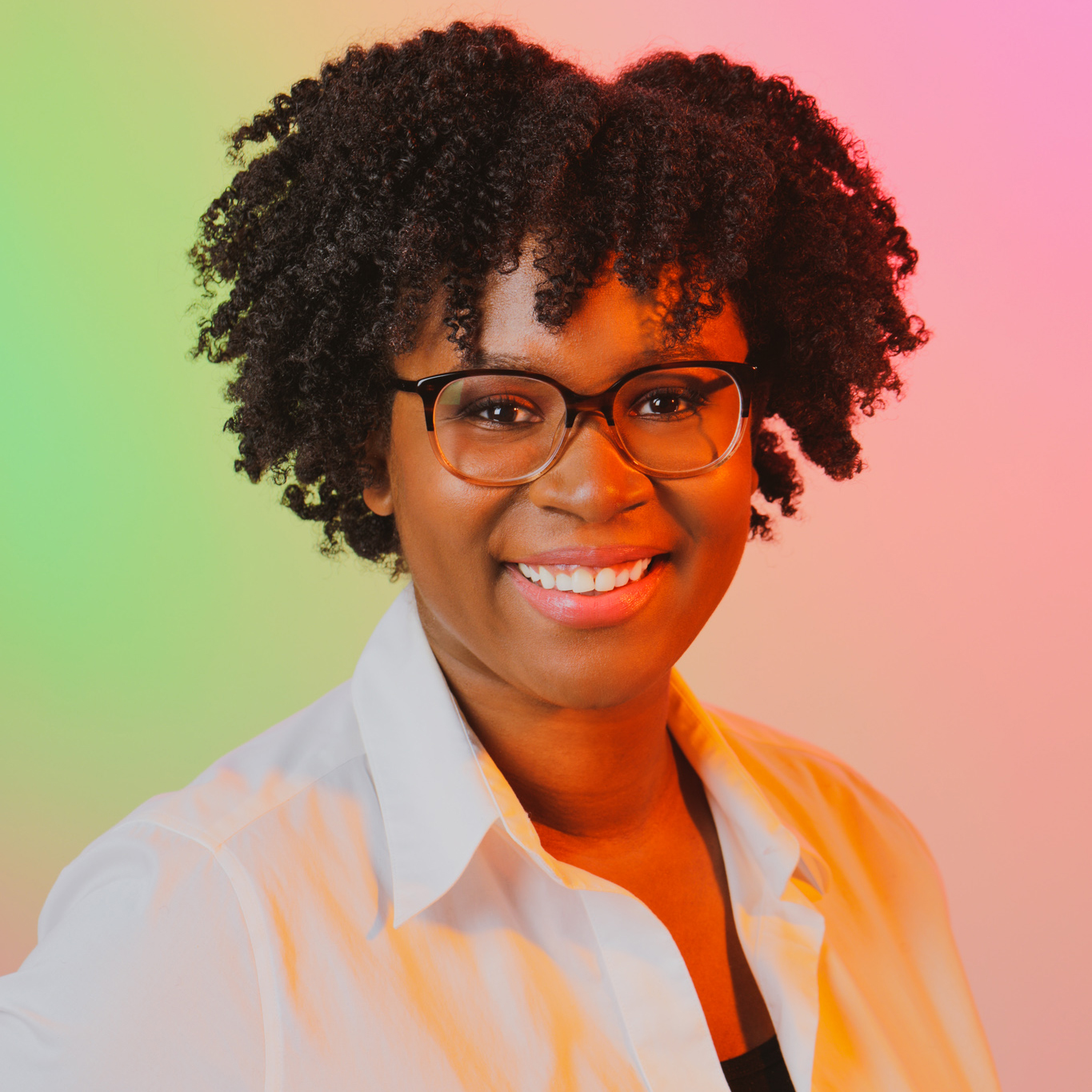 Aleitha Morgan
Graphic Designer | Singer | Intj | Type Lover
With great design comes great responsibility." That's how the Spiderman quote goes, right? That's probably how Aleitha remembers it, and what she lacks in Marvel superhero knowledge, she more than makes up for in design and branding savvy. In Aleitha's meticulous hands, design is about creating not just an object, but an experience. She always starts by outlining the design from start to finish — a habit she held on to from her first career path: architecture. Though she's no longer designing in brick and mortar, she brings that same precision and attention to detail to her work in print, interactive and environmental media, resulting in experiences that are beautiful and memorable. After closing the MacBook, Aleitha opens the songbook as a performer in the Bach Festival Choir, and the textbook as a professor for the next generation of talented designers.
Thinker since 2018
EDUCATION
Bachelor of Architecture, University of Miami
Associate of Science, Graphic and Interactive Design, Valencia College
Member, Bach Festival Society of Winter Park
Member, AIGA
Adjunct Professor of Graphic and Interactive Design, Valencia
Three-time local ADDY Award recipient
Winner of Judges' Best Presentation Award at AIGA Orlando Mentorship Spot Showcase
Career Night Coordinator, City of Orlando Community Outreach for Parramore teens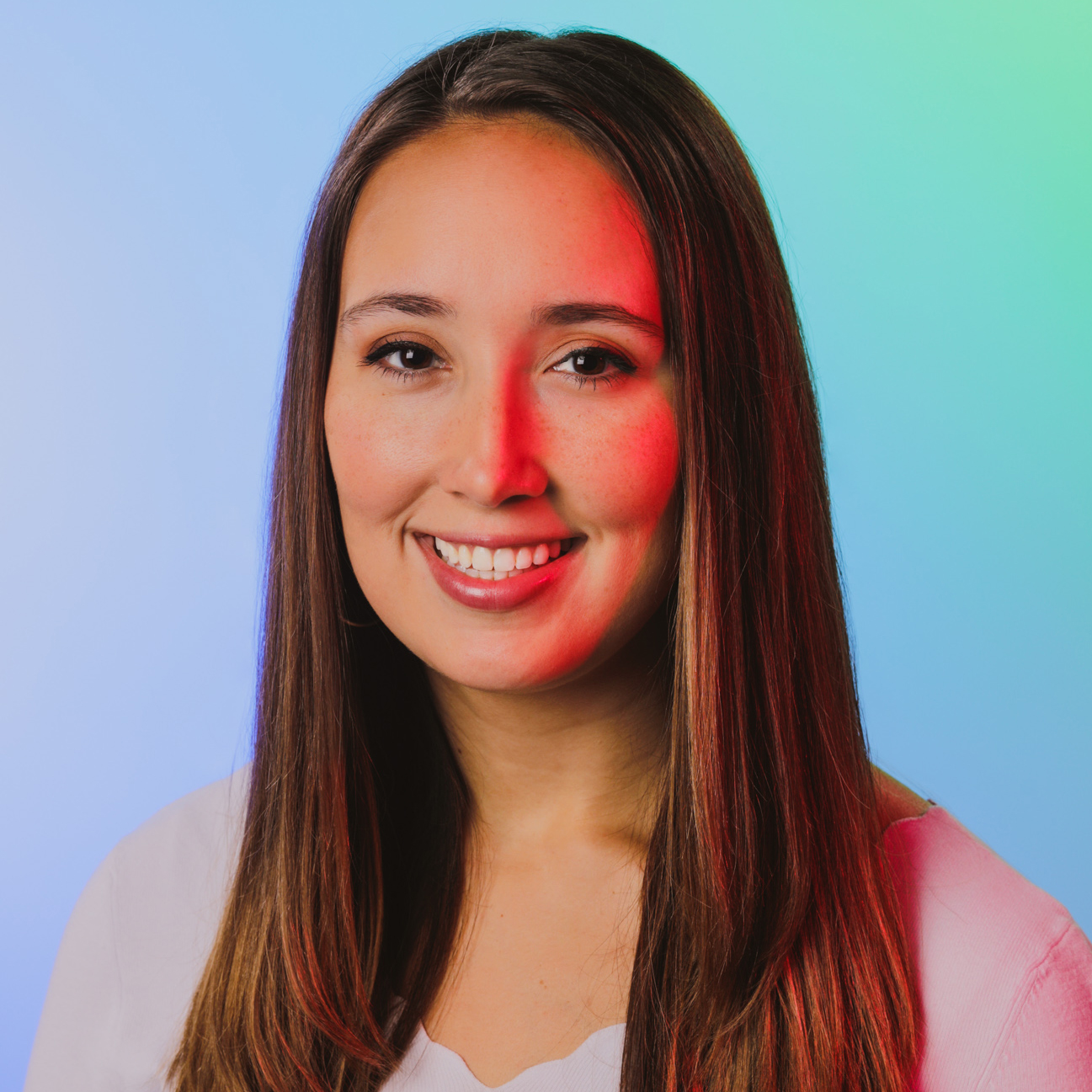 Alex Heirston
Account Coordinator | Buzz Builder | Dreamer | Doer
Jane of many trades, answerer of many questions and alleviator of all client concerns, Alex takes on every challenge with unwavering enthusiasm and all-in execution. She first joined the Think team as an intern, and by the time she donned her graduation cap, we realized that she was so darn good at everything we threw at her, from writing copy to managing projects to pitching media, that we just had to keep her. Now, as our full-time, card-carrying Account Coordinator, she runs point between clients and our creative team to make sure our work delivers on what we promised and our clients keep coming back for more. When not at work you can find her nose deep in a new book, brushing up on her knowledge of the Myers-Briggs personality test (because why not?) or spending time with her friends.
Thinker since 2018
EDUCATION
Bachelor of Arts, Advertising and Public Relations, University of Central Florida
Member, Public Relations Society of America
Ghost writer for a local talent acquisition agency
Closing in on her goal of visiting 12 state parks in 12 months
Always reading at least one book at all times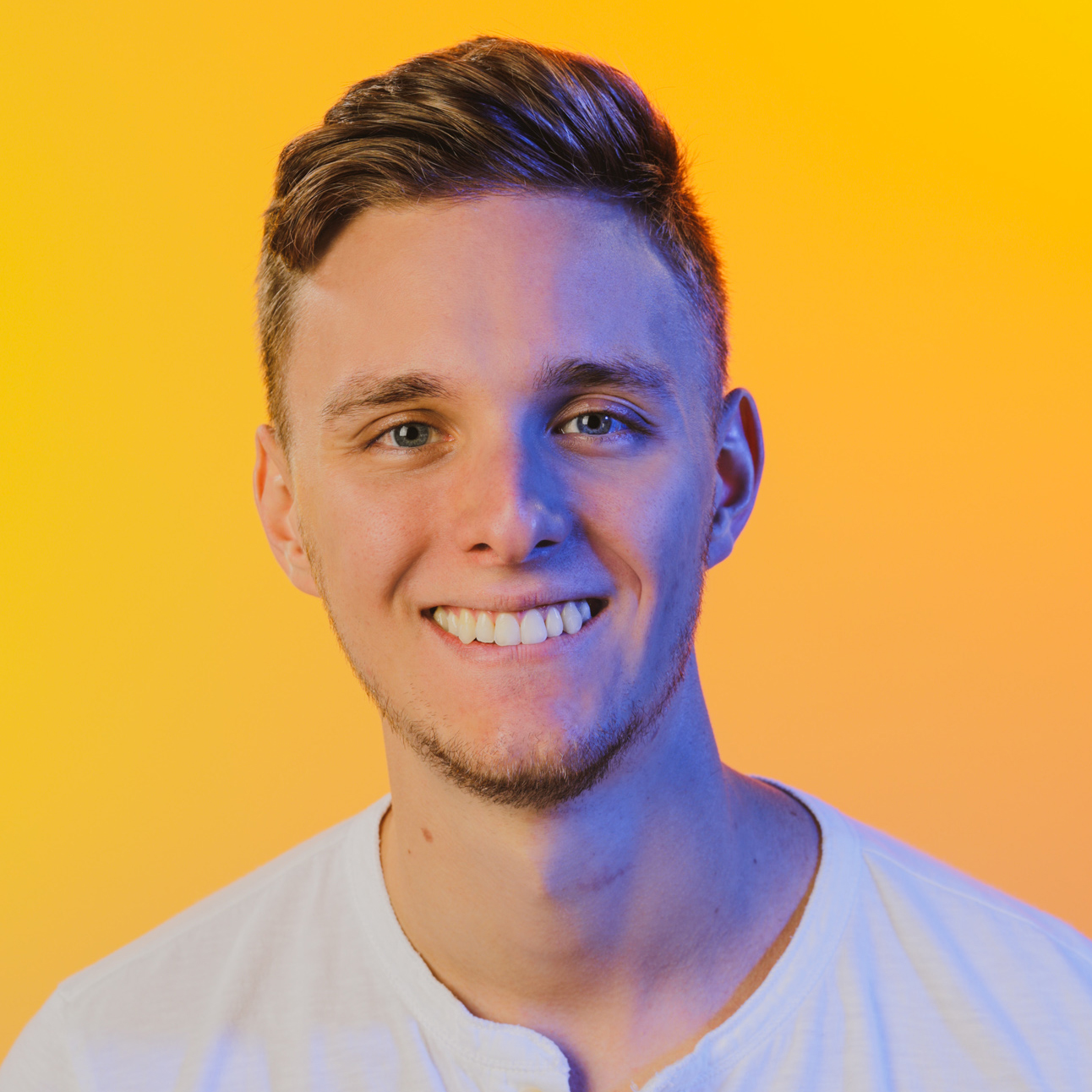 Fernando Tosetti
Video Producer | Storyteller | Polyglot | Jetsetter
Born and raised in Brazil before arriving at the University of Central Florida, Fernando is Think's international man of mystery and supplier of addictive Brazilian candy. He approaches each video project with a wide-open perspective and razor-sharp eye that sees how every single frame shapes the story. It's a skill that he honed on the video team for UCF Athletics, where milliseconds matter, cameras come with miles of cable to carry across the field, and spectacular plays must be shot, edited and broadcast within minutes. Fernando knows what it's like to work under pressure, and boy does he deliver, from conceptualizing to shooting, from editing to final cut — though finding the right music just might break him one of these days.
Thinker since 2018
EDUCATION
Bachelor of Arts, Advertising and Public Relations with minor in Film, University of Central Florida
NSCS and NSLS Honors student
Produced a Youtube video with over 660K views
Speaks Portuguese, English, Spanish and a tiny bit of Italian once in a while
Part-time seahorse keeper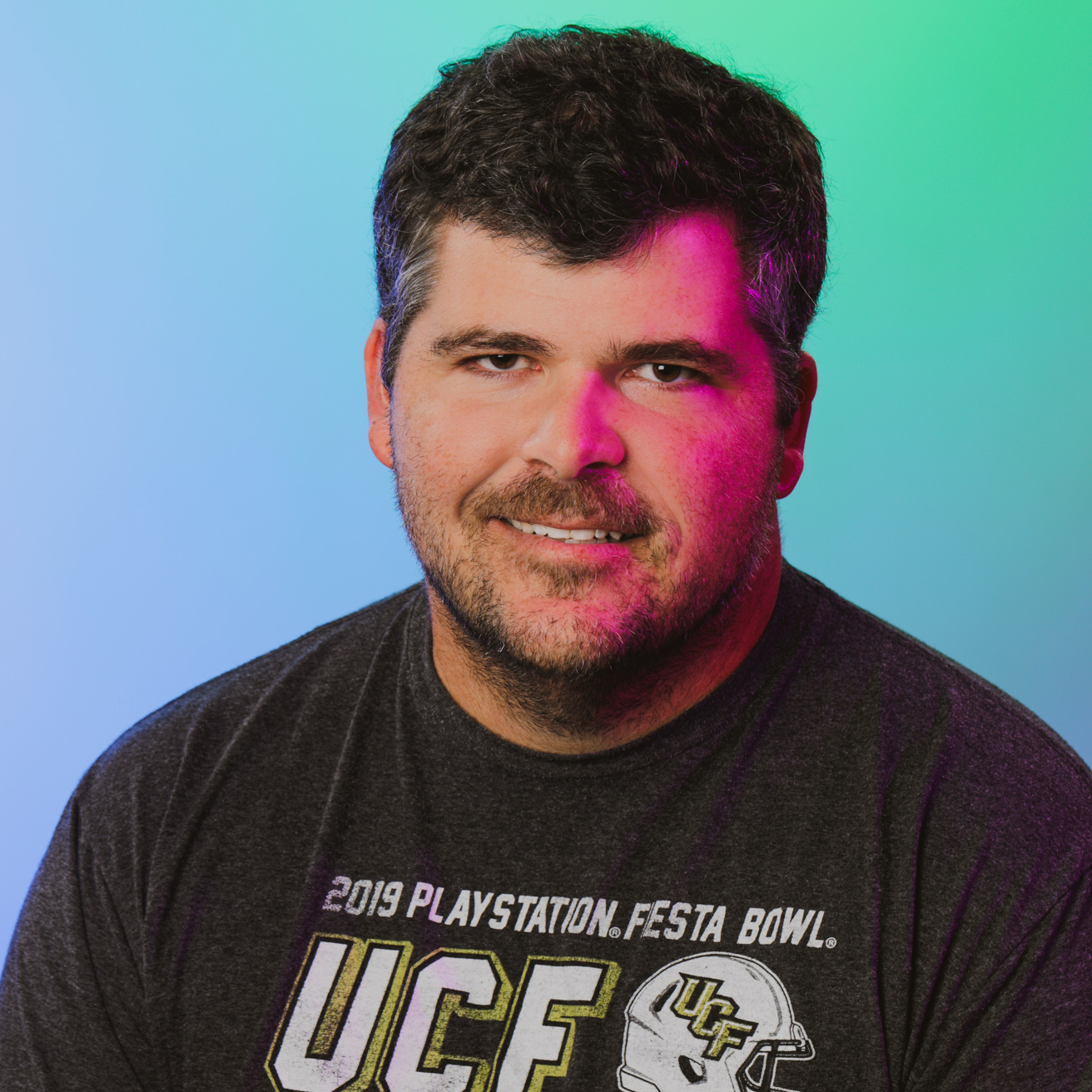 Chris Campbell
Developer | Daddy | Duffer | Occasional Sleeper
A digital native hailing from Orlando, Chris is passionate about all things Internet. It all started as a side hobby making GeoCity webpages for his favorite bands as a kid, then progressed to creating sites for friends out of his college dorm. Today, Chris designs digital experiences that help brands put their best foot forward. After studying Digital Media at the University of Central Florida, Chris worked for an interactive storytelling agency where he developed varied applications for Fortune 50 companies. He made a name for himself in Central Florida, working on design and development for an array of the area's digital agencies. We're proud to be his favorite. In addition to assuring an awesome web presence for Think clients, Chris serves as our team's de facto IT dude, patiently resolving critical tech issues such as why the heck the wi-fi ain't working right.
Thinker since 2015
EDUCATION
Bachelor of Arts, Digital Media, University of Central Florida
Golfer
Ride-or-die Orlando Magic fan
Resident Seinfeld aficionado
Proud Dad and DH (Dear Hubby, for those who don't read Mommy blogs)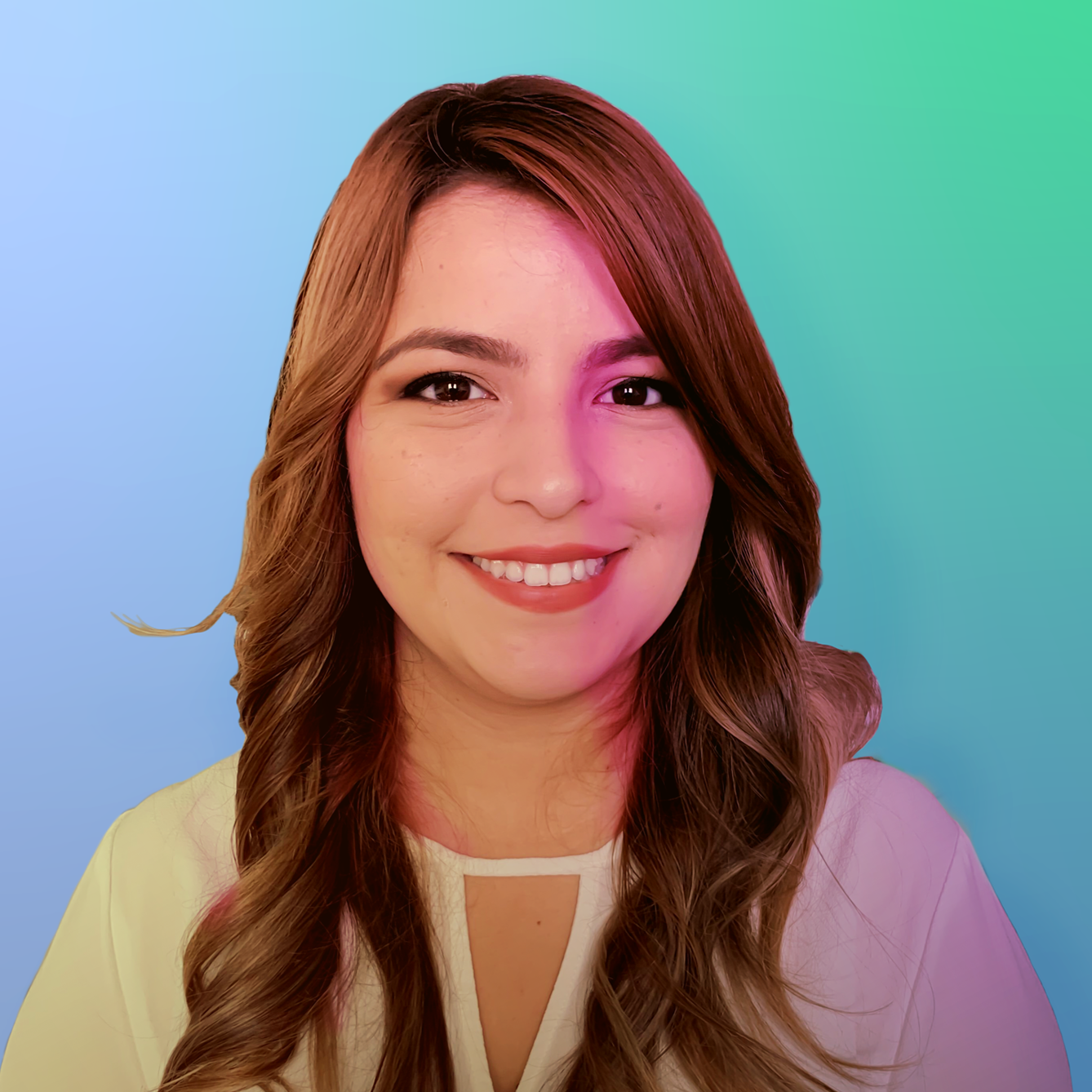 Kelsey Hundley
Social Media Coordinator | Fearless Activist | Kind Heart | Plant Lady
Co-founder of Intern Island, Kelsey knew after her first week as a social media intern that being able to work at Think someday would be a dream come true. Nowadays, you'll find her living the dream by creating content and social strategies for our clients, as well as building the occasional lettuce wall for influencer events. A prior intern for State Representative Anna Eskamani and communications chair of the UCF College Democrats, Kelsey is combining her love for politics and communications by working towards her master's in Public Interest Communication at the University of Florida as she learns how to tell stories that can change our world. A first generation Peruvian-American, Kelsey grew up on novellas and watching her grandma cook and loves reading, painting, watching Gilmore Girls reruns with her mom and cuddling her two cats. Outside the office, you'll find her exploring all the newest spots in Orlando, especially the plant shops.
Thinker since 2020
EDUCATION
Bachelor of Arts, Advertising & Public Relations and Political Science, University of Central Florida
Master of Arts, Mass Communications, University of Florida (in progress)
Frequent receiver of President/Dean's List certificates to go on the family fridge
Aspiring Tik Tok star
Dedicated volunteer for local politicians
Mom to 25 different plants
Creator of plant-based Peruvian dishes
We Are
Thinkers.
And doers.
And creators.
And innovators.
We Exist
to bring more
thoughtfulness
into the world.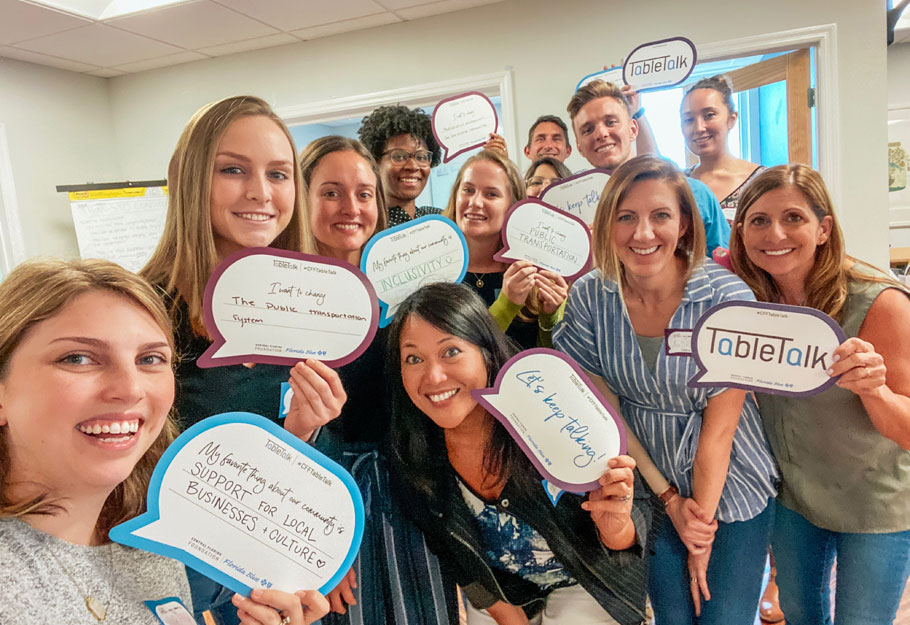 The Thinker Way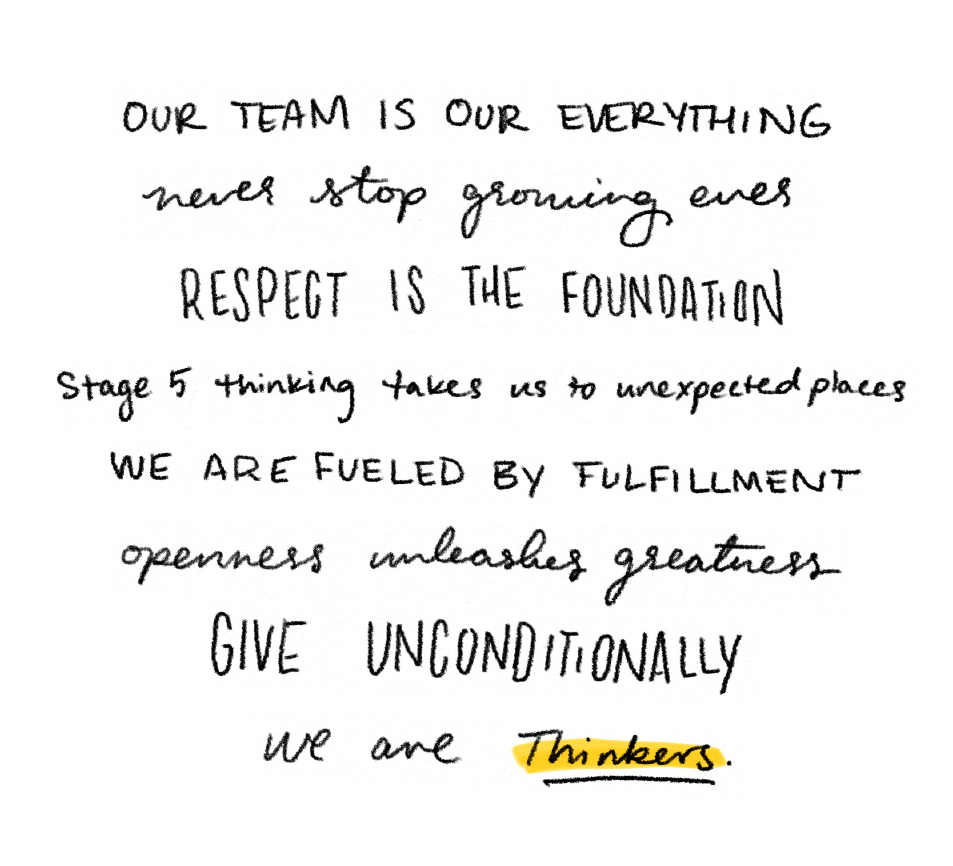 We think,
therefore we change:
people,
organizations,
our world.